Study: Parents more likely to suffer from depression if kids under age 5 have behavioral issues
By: Beth Rousseau , Action News Jax Updated: Sep 26, 2019 – 7:53 PM
JACKSONVILLE, Fla. – Parents, if your kids are under the age of 5, doctors say you are at a high risk for developing depression.
Autum Skillman has six kids and said she knows all about the joys of parenthood.
"Spending time and just watching them grow up, Ii's a lot of fun," she said.
---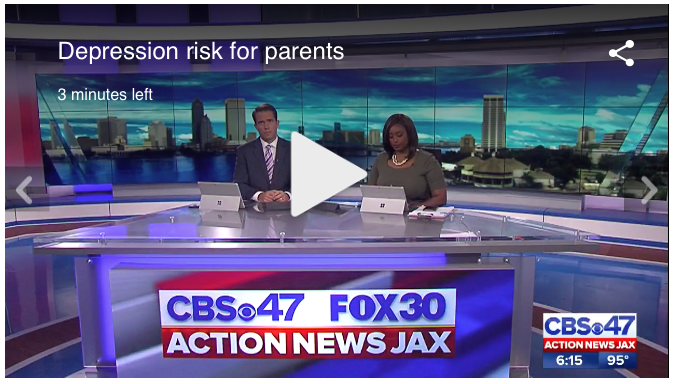 But she admitted it isn't always a good time, and she's not surprised local parents are struggling with depression.
Dr. Elise Fallucco, Chief of the Division of Child and Adolescent Psychiatry at UF Health said 24% of moms and 10% of dads deal with depression in the first four years of their child's life.
UF Health studied 2,000 Northeast Florida families and found there's a strong link between those symptoms and behavioral and emotional problems in preschool-aged kids.
"If we're depressed, then it really impacts the way that we can take care of our own children," Fallucco said. "There are so many effective treatments out there, whether it be counseling or therapy, or for some people trials of medication can be very helpful."
According to Fallucco, self-care for parents is also important.
She recommends exercise, healthy eating and taking personal time.
Skillman said without a strong support system, parenting is tough, but she believes it's worth it in the end.
"They do grow up so fast, so a lot of the feelings you have are temporary," said Fallucco.
Go to CBS 47 FOX 30 news article
View study as published in the Journal of Child and Family Studies