Dear colleagues and friends,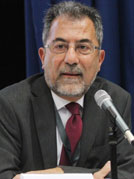 The Faculty of Health Sciences at the American University of Beirut is excited to host the ISSOP 2019 Annual Meeting on its campus by the Mediterranean. This conference is organized in close collaboraton with ISSOP, the International Society for the Preventon of Child Abuse and Neglect, and the Lebanese Pediatric Society. The theme of the conference is most fitting for its locaton where Lebanon hosts more than 1.5 million Syrian, Palestinian, and Iraqi refugees half of whom are children. The conference will bring together local, regional, and global experiences to examine the health and rights of children in contexts of war, displacement, and political violence and uncertainty.
So come and share your experience at this unique and exciting conference. Contextualized scientific evidence remains one of the most powerful tools to raise awareness, inform policy, and impact change. Researchers and practitioners should work hand in hand to advocate for the rights of those children in a safer and better life. Be part of this event where you can also contribute to discussions over a strategy for the protecton of children impacted by wars, occupations, and armed confict.
Iman Nuwayhid, MD, DrPH
Dean and Professor
Faculty of Health Sciences