Scientific Committee:
Fouad M. Fouad (Lebanon); Bernard Gerbaka (Lebanon); Jeffrey Goldhagen, M.D., MPH (United States); Joseph Haddad (Lebanon); Samir Khalil (Palestine); Nick Spencer (UK), Tony Waterston (UK); Jean Bowyer (UK); Joop de Jong (Holland); Ayesha Kadir (Denmark); Shanti Raman (Australia); Raúl Mercer (Argentina); Barbara Rubio (Spain).
Local Organizing Committee
Fouad M. Fouad; Bernard Gerbaka; Joseph Haddad, Gina Cordahi; Rouba El Khoury; Maya Abou Khouzam; Carol Hijazi.
Congress Venue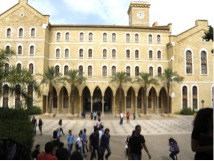 American University of Beirut
Issam Fares Hall & Bathish Auditorium, West Hall
Riad El-Solh 1107 2020
Beirut, Lebanon
Congress office
Contact person: Maya Abou Khouzam
Office 342, Tel: +961.1.350000, Ext. 4618
Faculty of Health Sciences, American University of Beirut
Riad El-Solh 1107 2020 Beirut, Lebanon
Low carbon footprint travel
Engagement of ISSOP against the climate change: choose your personal low carbon footprint and win the ISSOP Sustainability Prize!
Visa
You will find an overview on visa requirements to enter Lebanon here - Please note that if you have an Israeli stamp on your passport you will not be allowed to enter the country. If you do, you are advised to renew your passport.
- Be also advised that every person registering for the conference needs to undergo a vetting procedure. Once cleared you will be informed via email.
- For any questions regarding VISA requirements please email Maya Abou Khouzam
PLEASE do not make any flight or hotel plane reservations until you have received this confirmation. The confirmation will be sent to you via email. All funds received will be returned in full if there is a problem with vetting..
Official Language
The official language of the Congress is English. No translation will be provided.
Insurance
The organizers do not accept any responsibility for injuries/damages or losses sustained by persons or personal belongings during the conference. Participants are strongly advised to carry appropriate travelling and health insurance.