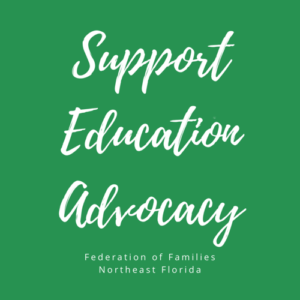 Federation of Families of Northeast Florida (FOF NE FL) is a parent and family-led organization, recognized in Florida and nationally as a voice on behalf of families of children and youth with mental and behavioral health or related issues.
Emotional, behavioral or mental health and well being needs encompass across all income, educational, geographical, racial, ethnic, and religious groups and from all different types of families. Our mission is to assist all families whose children and youth have mental health and/or behavioral or related issues by providing Support, Education and Advocacy (SEA) at monthly family meetings where all are welcome.
The Federation of Families of Northeast Florida organization is designed to:
Educate and support families that are impacted by the challenges associated with a mental and/or behavioral health disorder,
Provide Peer to Peer Support,
Build and strengthen family involvement in order to influence and understand mental and behavioral health services,
Develop a system of care that is family driven and youth guided,
Provide advocacy training, support, resources, and information that will assist families in navigating the mental and behavioral health system.
Provide families with tools to advocate for their child in all behavioral health services systems.
We help Link diverse parents, caregivers, families, youth and community members to build a brighter future for our children by contributing to the development and sustainability of a comprehensive, family-driven and youth-guided system of care in Jacksonville, Florida.
Get Involved! JOIN our growing organization to advocate for your child or a child you know with mental health or behavioral needs by attending our support group meetings —­­ SEA (Support, Education and Advocacy).
Let's Meet! ATTEND our monthly meeting. Please send an email or text with name, email and contact number.Meetings will be announce of the Facebook page, https://www.facebook.com/FederationofFamiliesNEFL
Child Involvement! Yes, We are happy to have your child attend, however unfortunately, we do not have child care set up. If children come with their guardian, they must be monitored by the guardian at all times and stay in the meeting room. As we grow attendance we are hoping to be able to provide childcare at no cost during the meeting for attending families.
Transportation Meetings will be held near a bus route/stop to make it convenient for families.
Youth M.O.V.E.is an organization that teens and young adults can have their voices heard they can connect through the website at https://youthmovenational.org/
FOF NE FL (Federation of Families of Northeast Florida) is a chapter of The National Federation of Families for Children's Mental Health, https://www.ffcmh.org/.
National Federation of Families
The National Federation of Families for Children's Mental Health is a national, family-run organization linking more than 120 chapters and state organizations focused on the issues of children and youth with emotional, behavioral, or mental health needs and their families.
---
August Family Meeting
August 22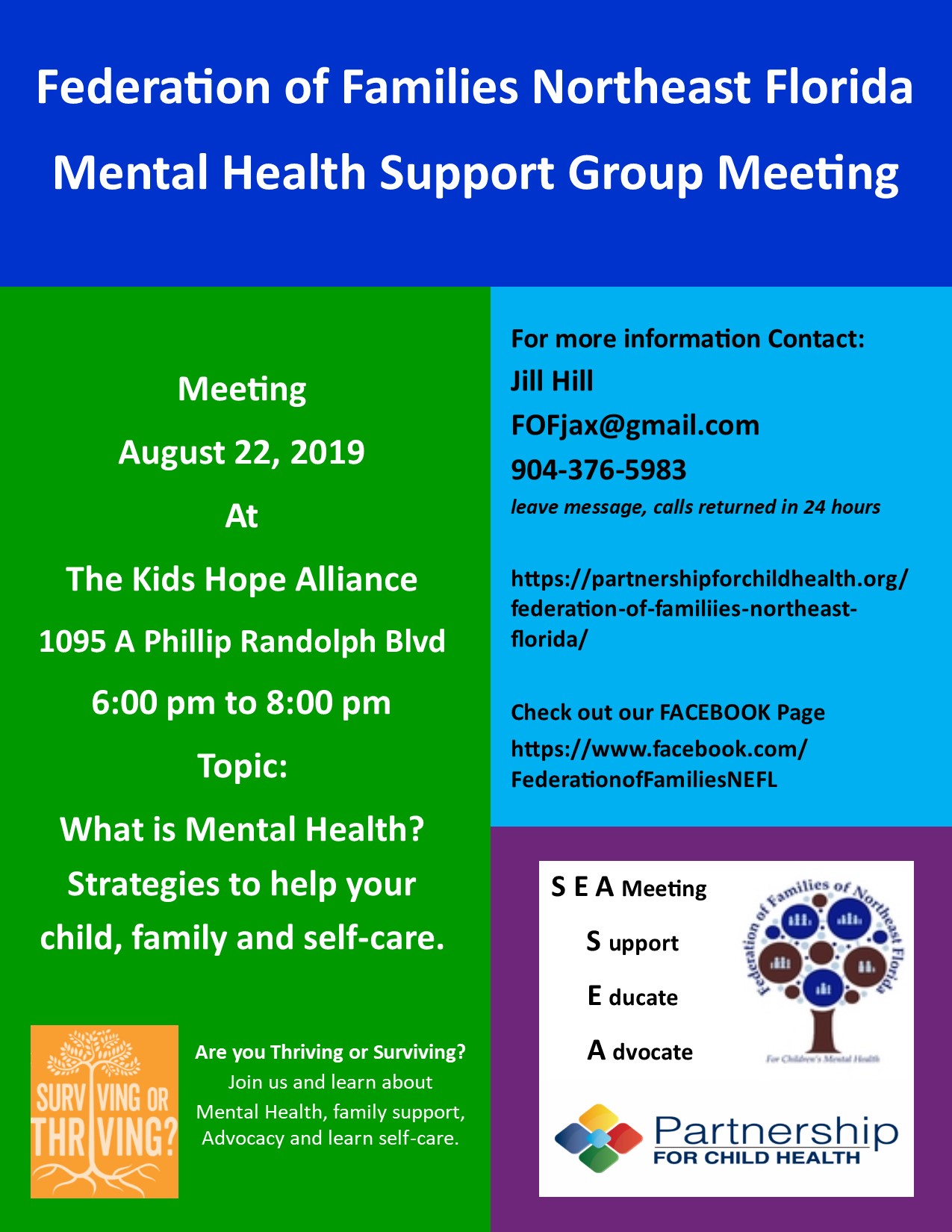 RANKING
---
Florida ranks 50th out of 50 states in mental health funding.
DISORDER
---
One in five children live with a diagnosable mental health disorder
IDENTIFICATION
---
Only 20% of children with mental health issues are identified.
SUICIDE
---
Suicide is the 2nd leading cause of death in youth 15-24 years old.